Are you ready to embark on an unforgettable adventure in the heart of the Middle East? Look no further than Go Jordan Travel and Tourism! Our Jordan tour packages for 2023 are designed to take you on a journey through this captivating country, allowing you to immerse yourself in its rich history, stunning landscapes, and vibrant culture.
Discover the Magic of Petra:
One of the highlights of our Jordan tour packages is a visit to the ancient city of Petra, often referred to as the "Rose City." This UNESCO World Heritage site is renowned for its breathtaking rock-cut architecture and the famous Treasury building, which you may recognize from movies like Indiana Jones. Our expert guides will take you on a guided tour through the intricate passageways and hidden tombs, revealing the secrets of this archaeological wonder.
Float in the Dead Sea: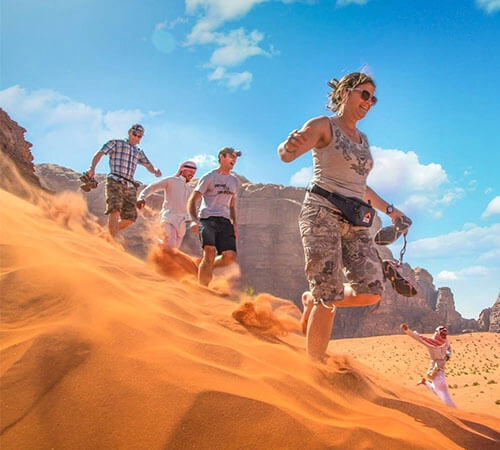 Imagine floating effortlessly on the surface of the Dead Sea, known for its extremely high salt content. It's an experience unlike any other, and our Jordan tour packages include a visit to this natural wonder. You'll have the opportunity to indulge in the therapeutic properties of the mineral-rich mud and soak up the sun while enjoying unparalleled views of the surrounding landscapes.
Explore Wadi Rum Desert:
For those seeking adventure and natural beauty, our Jordan tours also include a journey into the otherworldly landscapes of Wadi Rum. This vast desert, often called the "Valley of the Moon," is famous for its dramatic sandstone mountains and red dunes. You can explore this unique terrain on a thrilling jeep safari, witness stunning sunsets, and even camp under the starry desert sky for an authentic Bedouin experience.
Discover Amman's Rich Heritage:
Amman, Jordan's vibrant capital, is another highlight of our tour packages. Explore the city's historical sites, including the Amman Citadel and the Roman Theater, and get a taste of modern Jordan as you stroll through its bustling markets and dine on delicious Middle Eastern cuisine.
Experience the Warmth of Jordanian Hospitality:
At Go Jordan Travel and Tourism, we believe that the warmth and hospitality of the Jordanian people are an essential part of the travel experience. Our carefully crafted itineraries ensure that you have the opportunity to interact with locals, taste traditional dishes, and learn about the customs and traditions that make Jordan a truly unique destination.
Customize Your Journey:
We understand that every traveler has unique preferences and interests. That's why our Jordan tour packages for 2023 can be customized to suit your needs. Whether you're a history enthusiast, an adventure seeker, or a food lover, we can tailor your itinerary to ensure you get the most out of your Jordanian adventure.
Book Your Jordan Tour Package Today:
Don't miss the chance to explore the wonders of Jordan in 2023 with Go Jordan Travel and Tourism. Our expert team is dedicated to providing you with a seamless and unforgettable travel experience. Contact us today to book your Jordan tour package and start counting down the days until you embark on the journey of a lifetime.
In conclusion, Jordan is a country that seamlessly blends the ancient with the modern, the natural with the man-made, and the tranquil with the adventurous. With our Jordan tour packages for 2023, you can unlock the secrets of this mesmerizing destination and create memories that will last a lifetime. Join us at Go Jordan Travel and Tourism, and let's make your Jordanian dream a reality!